EDIT MAIN
Creating Entrepreneurial Opportunities (CEO) is a combination of Unit 10 and 20 students learning the basics of business. The students are largely autonomous as they go through making their own businesses, gaining valuable skills they will be able to apply later in life, as well as benefiting our community now.
2019 CEO Class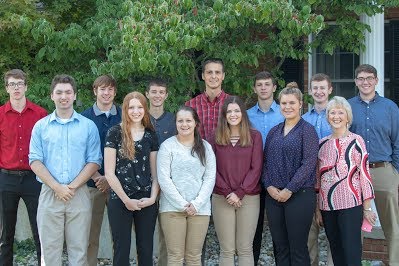 Back Row: Noah Weger, Logan Vaughn, Alec G, Cavan Rich, Eli I, Matt, and Nick
Front Row: Joey, Tabitha Reid, Shelby Russell, Jaylnn Ault, Maizie Organ, and Barbara Large
See the Lawrence County CEO Facebook page for more information.
We want to thank our first guest speaker, Bob Christy of Cochran Insurance, Co. for bringing us not only business tips but life lessons that we can carry with us throughout our life's journey. We also want to thank Rachel Hipsher, Director of the Lawrence County Chamber of Commerce and Board Member as well as Macey Waggoner, Alumni and Board Member, for giving us tips on appropriate business dress.