EDIT MAIN
The "Leader in Me" program was in the spotlight at Parkside Elementary School Thursday evening, as students led tours of parents, friends, family and community leaders in what was termed a "Leadership Night." Every student, in grades kindergarten through five, played a role in the evening.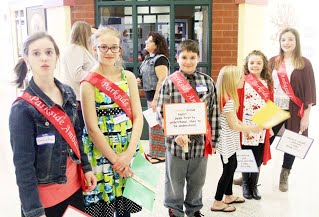 From left, Bethany Ruppel, Lailah Opat, Dalton Bobbitt, Katie Cook, Hope Senger and Keely Breen were among the many students who served as ambassadors. The students and faculty talked about the program which is based on the "7 Habits for Healthy Kids."
Look at you! :) #LeaderInMe <3 Spread the word & deed... Success is contagious.