Today's LHS softball game has been moved to Edwards County and the LHS baseball game has been canceled.
Friday, March 31 is a two-hour early student dismissal. Spring break follows the dismissal. Students and staff will return to class on Monday, April 10.

Today's softball and baseball games for LHS have been canceled.

Today's LHS softball game scheduled at Edwards County has been canceled due to potential rain.

LTC is offering 5 tuition-free summer classes! For more information, contact your advisor or call 618-544-8657. Summer registration opens March 14.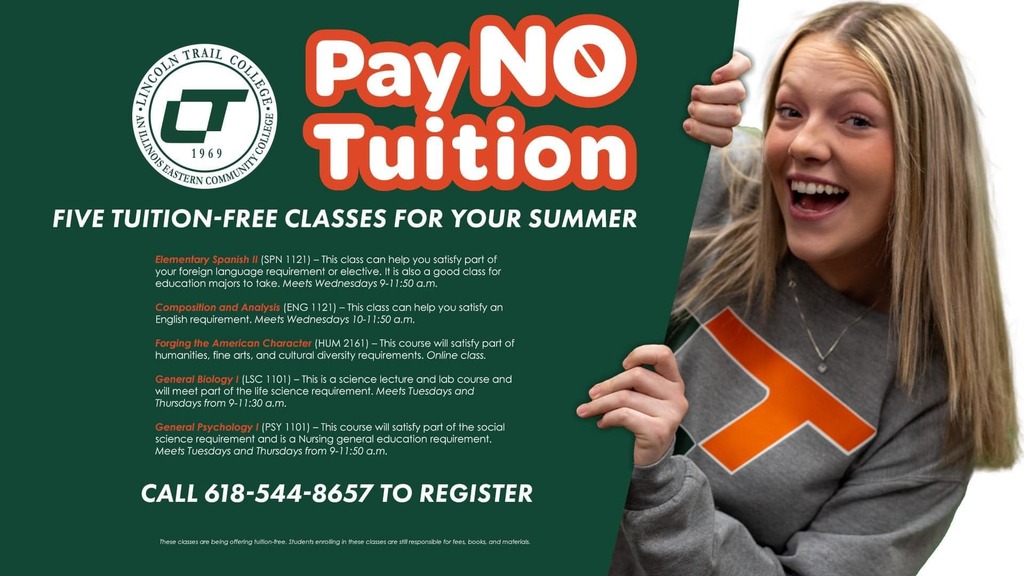 Olney Central College is offering 5 tuition-free summer classes! For more information, contact your advisor or call 618-395-7777. Summer registration opens March 14.
www.iecc.edu/occ/summer

Friday, March 3rd all CUSD #20 schools will be running a shortened two-hour early dismissal schedule due to school improvement activities that afternoon.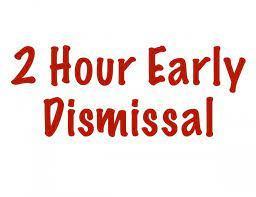 CUSD #20---Bus 16 will NOT be running today.

This is a friendly reminder that CUSD #20 will be holding Spring Parent/Teacher Conferences Thursday, February 16th and Friday, February 17th. Thursday will be a one-hour early dismissal district-wide so please plan accordingly. There will be no school Friday, February 17th due to Parent/Teacher Conferences or Monday, February 20th due to Presidents' Day. We encourage you to attend your student's conferences this week if you can. Have a great week, Unit #20!

Attn: 8th grade parents, Reminder there will be an informational meeting for incoming freshmen and their parents on Thursday Feb 16th at 6pm in the LHS Cafeteria. At that time students will turn in their 23-24 course requests as well as receive info regarding 9th physical, athletics, and other organizations.

Tonight is the CUSD #20 Staff Appreciation Night at Lawrenceville High School. Come out, thank the Unit #20 staff, and cheer on the Indians as they host the Red Hill Salukis. JV start time is 6:00 with the varsity tip-off following shortly thereafter. Tonight is also senior night at LHS. We will be honoring the boys basketball players and cheerleaders between games.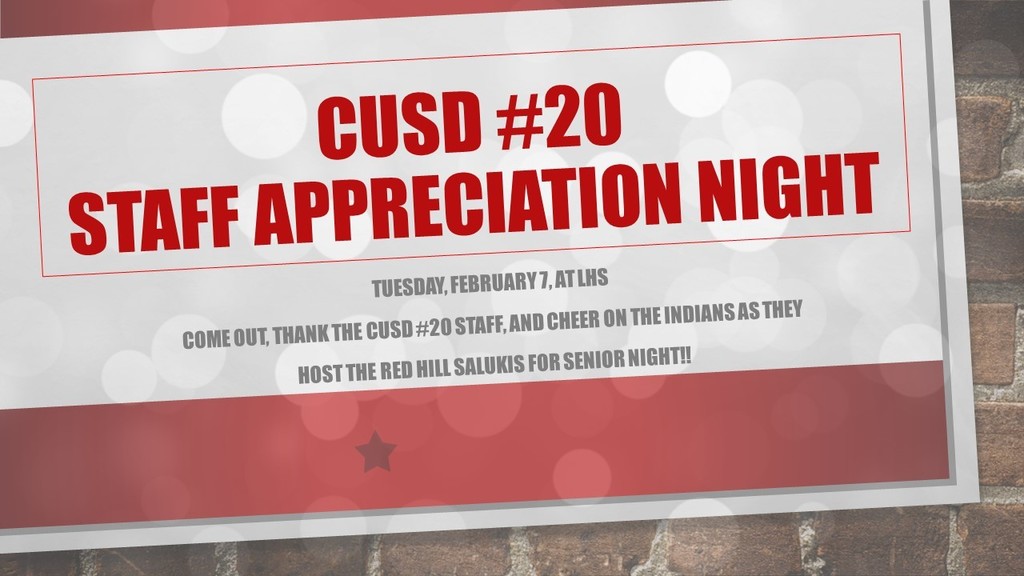 Parkview students will be returning back to Parkview tomorrow morning, Tuesday, February 7th. This evening's home girls' basketball game will be held at Parkview as planned.

On Thursday, February 16, all Parkview eighth-graders and their parents/guardians are invited to attend an orientation to be held in the LHS cafeteria at 6:00 P.M. At this time, they will turn in their class registration forms, as well as receive information regarding school physicals, athletics, and other organizations at the high school. There will not be any tours conducted this evening, as it coincides with district-wide parent-teacher conferences. There will be another orientation scheduled in late summer for students to receive schedules, locker assignments, and a school tour.

Parkview students will remain at Lawrenceville High School on Monday, February 6th. Boiler workers plan to finish up the repairs on Monday and run all safety inspections at that time. We want to thank DeBra-Kuempel for their outstanding service on this project.
CUSD #20 Evening Update: The boiler at Parkview is still under construction; however, the grinding and welding is nearly complete. Replacement parts are in route and will hopefully be in hand by the end of the week. Parkview room temperatures today ranged from 52 to 60. Thank you for your patience and we will continue to update as we know more. Best of luck to our Parkview 8th grade boys as they play against Robinson at Cumberland in the IESA Regionals. Also, best of luck to our LHS Cheerleaders as they prepare to head to their state competition on Friday in Bloomington!
Parkview Parents - there will be a menu change for Friday, February 3, 2023. Parkview students will now have the option of a quesadilla or chicken burrito, small salad, corn, fruit and milk. The menu tomorrow will stay as is. Today has been a great day. There will be a boiler update this afternoon for all CUSD #20 families. Have a great day!
End of the Day Update for Parkview Families: There will be volleyball practice at Parkview the rest of the week from 3:15-5:00. Scholastic Bowl will be practicing in the high school cafeteria tomorrow from 3:00-4:00. There will be no art club this week. Tutoring will take place in classroom 503 for 6th grade, 504 for 7th grade, and 505 for 8th grade. Last, the 5/6 grade boys basketball game will be played at LHS tonight. Again, thank you for all your understanding and support during this time. We look forward to another successful day tomorrow with ALL our students in the district. ❤️🖤
Beginning with the 2023-2024 school year, LHS will offer a Firefighter course. Thank you Lawrence & Allison Fire Dep't for presenting to our students today & investing in the future.
Parkview Boiler Update: A team of repairmen from DeBra-Kuempel have been working tirelessly over at Parkview Junior High School to repair the boiler. As you can see, they have their work cut out for them; however, they are getting the job done and done well! We want our students and staff warm but more than that, we want them safe. So the public knows - plans have been in place to use Covid 3 funds to install a brand new HVAC system this summer at Parkview. Parts were not available last summer; therefore, the project was delayed until the summer of 2023.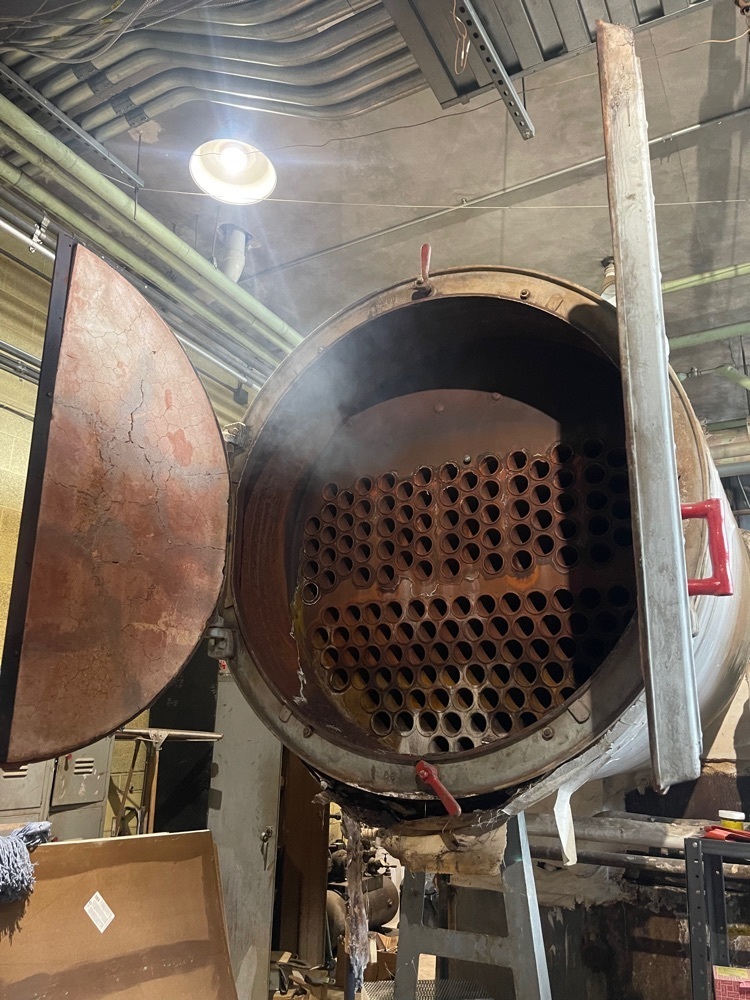 Midday Update from CUSD #20! The District Administration, LHS administration and staff, and Parkview administration and staff would like to give all parents and community members an update with the merging of Parkview and LHS. So far this morning, all Parkview students and staff have gotten through lunch and periods 2, 3, and 4. The LHS freshmen and sophomores have eaten and the juniors and seniors will eat next. Parkview Junior High School cafeteria workers did amazing at preparing the junior high students lunches and the LHS cafeteria workers provided the breakfast and lunches for their students. We also want to thank the LHS cafeteria workers for providing our Parkview students with an amazing breakfast this morning. They will continue to do this for the duration of Parkview's stay at LHS. The Parkview teachers and students are doing well and have embraced the transition with grace and empathy. The LHS students and staff have been supportive and helpful with the changes that have been made to their day as well. The Unit #20 families have come together to make a not-so-great situation into one we can only be proud of. Even though we are still working through some hiccups, we wanted to update all parents/guardians/community members on the status of our students. We will update again at the end of the day with any announcements that need to be made for tomorrow.